8 September 2020, Tokyo, JAPAN
・Service for Haneda=Houston route will be resumed in October.
・Flights between Haneda=Sydney, Haneda=Paris, Narita=New York and Narita=Mexico will be increased.
・Narita=Honolulu route will resume 2 round-trip services in October operated by Boeing 787-9, in order to meet the demands of passengers for studying or working purposes.
All Nippon Airways (ANA) will temporarily change its flight frequency to and from select cities. Based on changes to immigration control, recently instituted public health quarantine measures and passenger demand trends of each country due to the widespread impact of COVID-19, we have suspended or reduceed flights for select routes in September
ANA will continue to take appropriate measures and will resume operations based on the entry and quarantine measures in effect at each destination, while remaining mindful of the needs of those seeking to return to their home countries or their families as well as those traveling for business needs. In addition, ANA is committed to ensuring the comfort and safety of all its valued passengers and our employees by providing customers with clean and hygienic environments in airports, lounges and onboard aircraft through "ANA Care Promise", our new standard for air travel. We will continue our efforts to ensure the safety and comfort for all passengers flying with ANA.
Changes to the Schedule (September 1 – 30)
A total of 5 flights serving 3 routes will be affected by the changes announced today.
Overview:
*1 Total number of flights include additional flights to Hong Kong and Manila
Additional Announcements as of today:
Changes to the Schedule (October 1 – 31)
Overview:
* The number of flights include additional flights to Hong Kong and Jakarta
Today's announcement is marked in yellow and unaffected flights are marked in grey.
Asia / Oceania
North America / Panpacific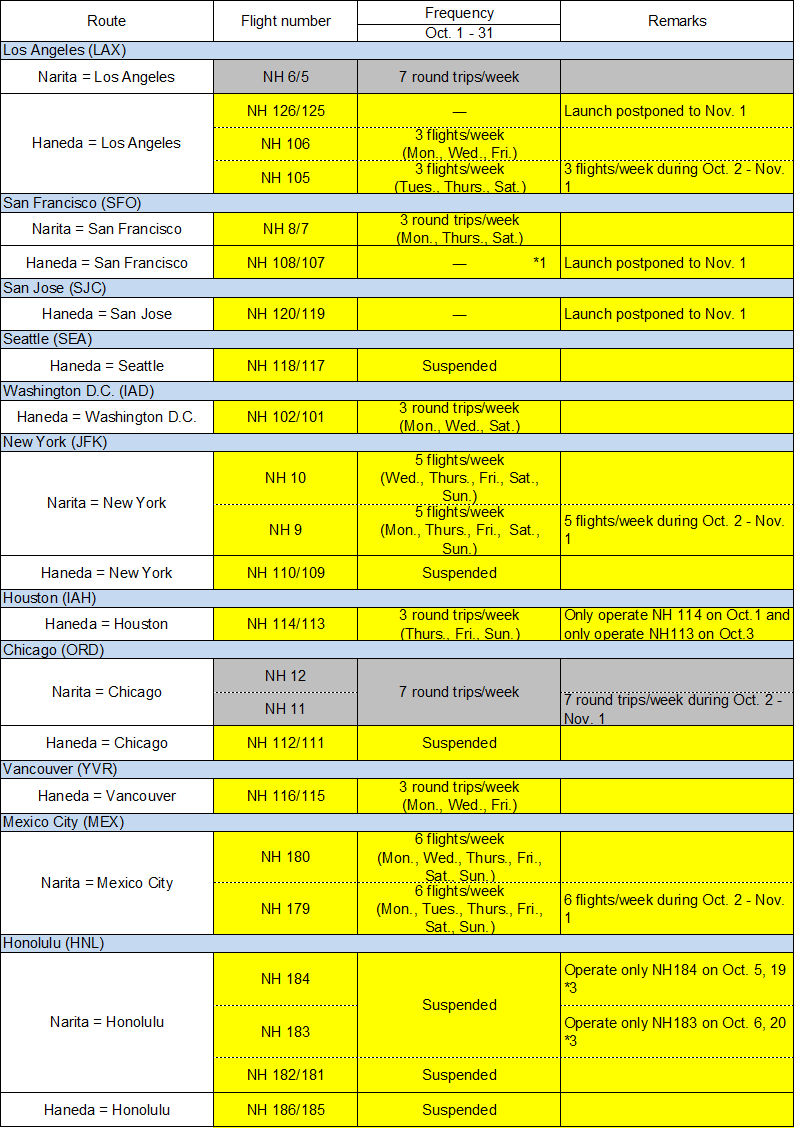 Europe
*1 Return flights bound for Japan will be departing on the following day.
*2 Announcement will be made once the new launch date is decided.
*3 The flights will be operated by Boeing 789 (246 seats) and the sales is temporarily suspended. The sales will be resumed on September 10 (JST).
Due to the strengthening of the quarantine measures in each region such as changing of entry conditions, are being implemented. Customers should check the newest information from embassies, consulates, and health institutions of the countries they are visiting.
Flight schedule for Narita = Hong Kong (NH1929/1930)
From October 1 – 24:
From October 25 – 31:
ANA will continue to closely monitor the situation and will take appropriate action when needed to reassure our customers and employees that ANA is taking every precaution to provide a clean, safe and comfortable environment.
Source: ANA